Well, life has been busy, but lots going on.
Firstly, my name is on the cover of Asimov's for the first time. That's pretty exciting. The story is "Schools of Clay," a hard science fiction time travel story. I'd been musing for a while about why time travel stories rarely incorporate evolutionary perspectives into the time travel devices, so I decided to write a few. I actually wrote a more extensive blog entry on the genesis of this story for the new Asimov's website, which I understand will be launching sometime soon. This is a first for me and if you want to buy a copy, e-versions are available at
Amazon
.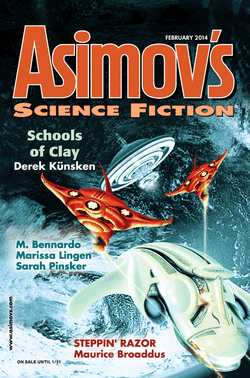 I've also started blogging at
Black Gate Magazine
. These are really my first attempts at blog postings, and they are quite possibly amateurish. We'll see. I'll get better. Here are the links if you want to judge for yourself :-)
Some Comments on the SFWA Rate Increase
Voices in Fantasy Literature, Part I
I'm also pretty happy to have gotten a new novelette about the colonization of Venus by Québecois separatists written, edited, critiqued and out to market. Also, a novel I've been working on for a bit got to 4th draft, which is when I generally consider a work ready to give to our writers' group. And of course, my new piece of horror "Dog's Paw" is now out in Chilling Tales (part deux) and was also accepted by
Pseudopod
for audio podcasting, hopefully sometime soon. That's pretty exciting too - that means I've made it into two of the three EscapeArtists audio magazines :-)
And I should be getting back to drafting....
Merry Christmas!